Special Deck Launch: Connect with Hummingbird Wisdom
March 29, 2022 @ 5:45 pm

-

6:30 pm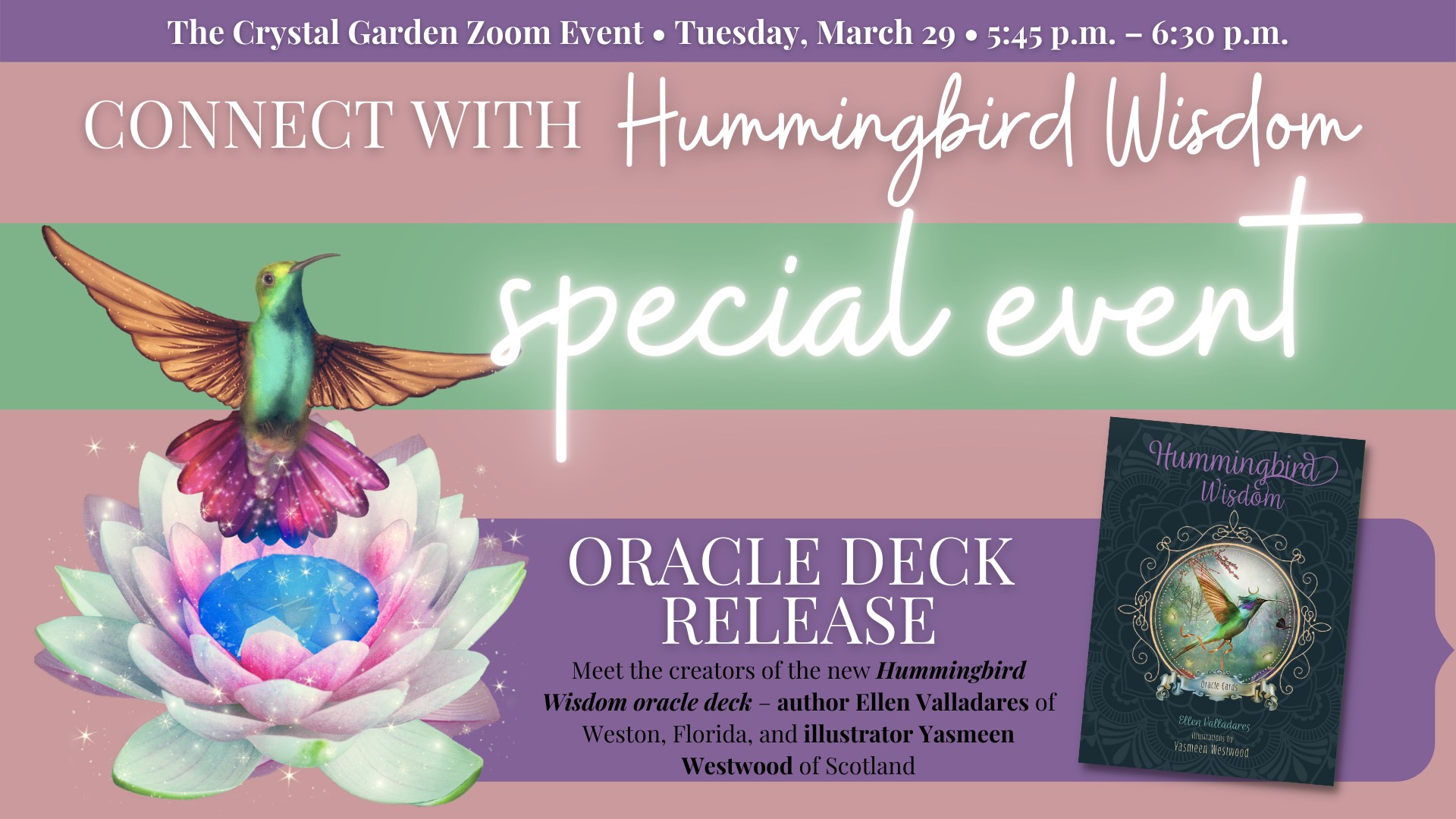 Facilitator: Margaret Ann Lembo
Featuring: Ellen Valladares and Yasmeen Westwood
Date: Tuesday, March 29
Time: 5:45 pm – 6:30 pm ET (4:45 pm CT, 3:45 pm MT, 2:45 pm PT)
Price: FREE!
If you'd prefer to attend on Facebook, join us on The Crystal Garden Facebook Page
Margaret Ann will start the event with a 15 minute guided meditation.
Meet the creators of the new Hummingbird Wisdom oracle deck – author Ellen Valladares of Weston, Florida, and illustrator Yasmeen Westwood of Scotland. Hummingbirds are magical messengers that symbolize joy, drinking in the nectar of life, courage, and shining your true colors in the world.
In this event:
You'll learn about the inspiration behind the deck and the fun creative process
Discover how playing with Hummingbird 'MAGIC' can help you align with joy
Ellen will pull a couple cards from the deck and give messages to the group
One attendee will win a free Hummingbird Wisdom Oracle deck
Ellen Valladares is an author, mentor, and workshop facilitator who has taught numerous classes in South Florida over the last 21 years about angels, manifestation, meditation, and more. Her inspirational works include the novel Crossing the Line, the children's chapter book, Jonathan's Journey to Mount Miapu, the Hummingbird Wisdom oracle deck, and the Angels of Healing and Hope Oracle (coming spring 2023). For more information, visit 
https://ellenvalladares.com/
Yasmeen Westwood is an award-winning artist and Tarot deck creator who lives in Scotland. In addition to her two decks with Ellen, Hummingbird Wisdom and the Angels of Healing and Hope Oracle, she has created The Tarot of Enchanted Dreams and The Tarot of the Enchanted Soul, and is working on several new projects. To find out more, visit 
https://enchantedsoulart.co.uk/